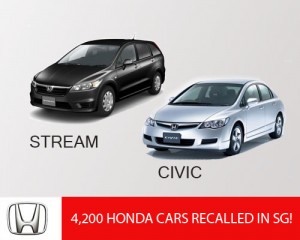 Approximately 42,000 Honda Cars sold by Kah Motor are affected by the Global Honda recall that covers 200,000 passenger cars.
Kah Motor stated that the Honda car models affected in Singapore are Stream and the 1.6 and 1.8 litre versions of the Civic manufactured between 2008 and 2010.
Japanese automaker Honda Motors said they have defective engine bolts which may cause trouble with the motor cooling system and could eventually cause the engines to stop.
Kah Motor also said that all affected customers will be contacted to come in for repairs which will take about 40 minutes. It will also inform the Land Transport Authority (LTA) and write to owners once updated owner's information is obtained from the LTA.
"When the countermeasure parts arrive, we will contact owners to bring their cars in for replacement of the parts," Kah Motor product manager Vincent Ng said.
Stay tuned for more updates on the list of cars affected on the recall.
Thank you.
[symple_divider style="solid" margin_top="20px" margin_bottom="20px"]
Recall Note: The safety of our customers is our top priority and is one of our important commitments to excellent service standards. To our Cars & Stars' customers who are affected on this recall, we will send you a letter regarding this matter as soon as we get recall notifications from LTA. Please be rest assured that Cars & Stars will give you all the necessary assistance needed for this recall. Thank you.
Want to get updated with latest announcements, info and news regarding various vehicle recalls?
Here are simple ways to get all these recall info for FREE.
1.) "Like" us on Facebook – www.facebook.com/carsandstars.com.sg
*Be a part of our growing community and get recall notifications and other car news straight from your Facebook News Feeds.
2.) Bookmark or visit our company news page regularly – https://www.carsandstars.com.sg/category/news/
* Any updates, notification and announcements regarding recalls our compiled and posted on our news page so be sure to check it our regulary.
3.) Join our recall notification mailing list – https://www.carsandstars.com.sg/contact-us/
[symple_divider style="solid" margin_top="20px" margin_bottom="5px"]