We Bring You From
Dreaming To Driving.
We make it our goal to realize and fulfill your dreams of driving, and while doing so, retain the dreamlike feeling that is so important to you.
At Cars & Stars, you are the star of the show, and the spotlight is seen shifting from cars to you. It is all about casting the spotlight on you, treating you with the utmost care, and providing the best service.
Get the Best New Cars & Deals
at Cars & Stars
Featured New Cars for Sale
$1 Driveaway
Dollar-For-Dollar COE Rebate
New Arrival
Ready Stock
Dollar-For-Dollar COE Rebate
New Arrival
Ready Stock
Dollar-For-Dollar COE Rebate
Latest Model
New Arrival
Ready Stock
Buying a Parallel Import Car From Cars & Stars
As the leading and most trusted Parallel Importer (PI) in Singapore, we import hand-picked cars directly from the country where they were originally manufactured. Just like with an Authorised Dealer, we purchase the cars directly from the factories that are producing the cars and then import them in Singapore.
If you are wondering why Cars & Stars, a Parallel Importer, can offer a much lower price than an Authorised Dealer, the answer is simple – when you buy a car from an Authorised Dealer, the price of the car reflects all the overheads – the brand (accompanied with hefty distribution rights/franchise/royalty costs), the big elegant showrooms, a large group of staff, the industry fees, marketing and so on. On the other hand, when you buy directly from Cars & Stars, you pay lesser for the car as we are able to cut out a lot of the mentioned costs. In addition, we always choose to offer the lowest price in the market to help our customers to own and finally drive their dream car and enjoy the highest possible value and savings for it!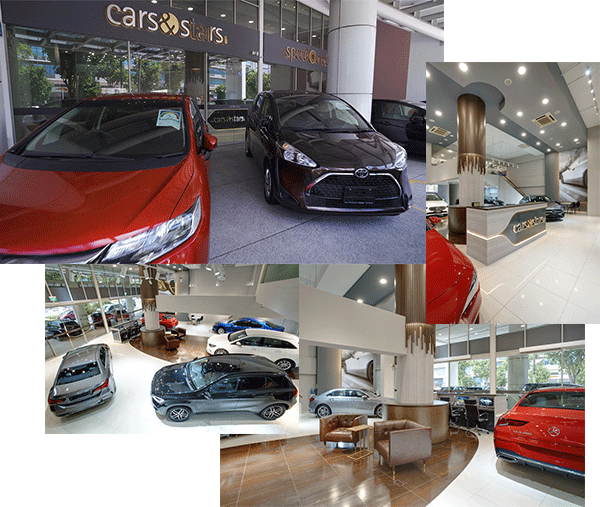 Trade-In / Sell Your Car to Save More
Only the best trade-in value for your used car when you purchase a new car with us.
Complete Your Car Buying Experience
Services tailored to complete and add more value to your car buying experience.