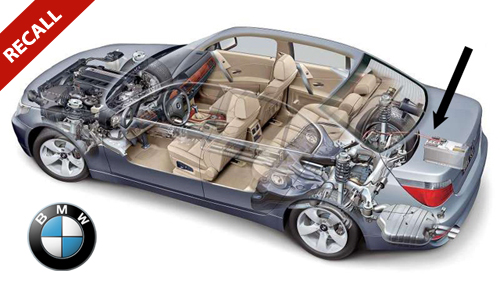 BMW announced a global safety recall of 1.3 million vehicles. The cars affected by the recall are BMW 5 and 6 series models built between 2003 and 2010. The recall does not apply to any current production model BMWs.

BMW said that the recall is due to incorrect mounting of the battery cable cover. But BMW reported that they are not aware of any accidents or injuries related to the problem.
The recall affects about 368,000 cars in the United States and about 293,000 cars in Germany, BMW said. Another 109,000 cars are subject to the recall in Britain and about 102,000 in China, BMW said.
In Singapore alone, nearly about 10,000 BMW 5 and 6 Series models are affected, which is believed to be the biggest recall exercise in Singapore for the premium automaker.
The Land Transportation Authority (LTA), said that there are about 8,441 BMW 5 Series and 764 6 Series models are affected. Number of affected cars brought in through parallel importers is still uncertain but a rough estimation by LTA shows 520 cars which covers 494 BMW 5 Series and 26 BMW 6 Series.
See BMW's official press release below:

In order to carry out a quality measure, the BMW AG is re-calling all BMW 5 and 6 Series models of the previous generation, built between 2003 and 2010 and still on the market for repair at authorised dealers.

In some remote cases, the battery cable cover inside the boot of these vehicles may be incorrectly mounted.

This can result in the electrical system malfunctioning, the vehicle failing to start and, in some cases, to charring or fire.

We are not aware of any accidents or injury to persons resulting from this fault.

Vehicle owners will be notified in writing. Affected vehicles will remain at the respective BMW Partner repair workshop for approximately 30 minutes, the service, of course, being free of charge to the customer.

Approximately 1.3 million vehicles worldwide are affected.
Disclaimer: This blog post is for reference purposes only. No copyright infringement is intended.
Sources: Reuters, LTA
[symple_divider style="solid" margin_top="20px" margin_bottom="20px"]
Recall Note: The safety of our customers is our top priority and is one of our important commitments to excellent service standards. To our Cars & Stars' customers who are affected on this recall, we will send you a letter regarding this matter as soon as we get recall notifications from LTA. Please be rest assured that Cars & Stars will give you all the necessary assistance needed for this recall. Thank you.
Want to get updated with latest announcements, info and news regarding various vehicle recalls?
Here are simple ways to get all these recall info for FREE.
1.) "Like" us on Facebook – www.facebook.com/carsandstars.com.sg
*Be a part of our growing community and get recall notifications and other car news straight from your Facebook News Feeds.
2.) Bookmark or visit our company news page regularly – https://www.carsandstars.com.sg/category/news/
* Any updates, notification and announcements regarding recalls our compiled and posted on our news page so be sure to check it our regulary.
3.) Join our recall notification mailing list – https://www.carsandstars.com.sg/contact-us/
[symple_divider style="solid" margin_top="20px" margin_bottom="5px"]