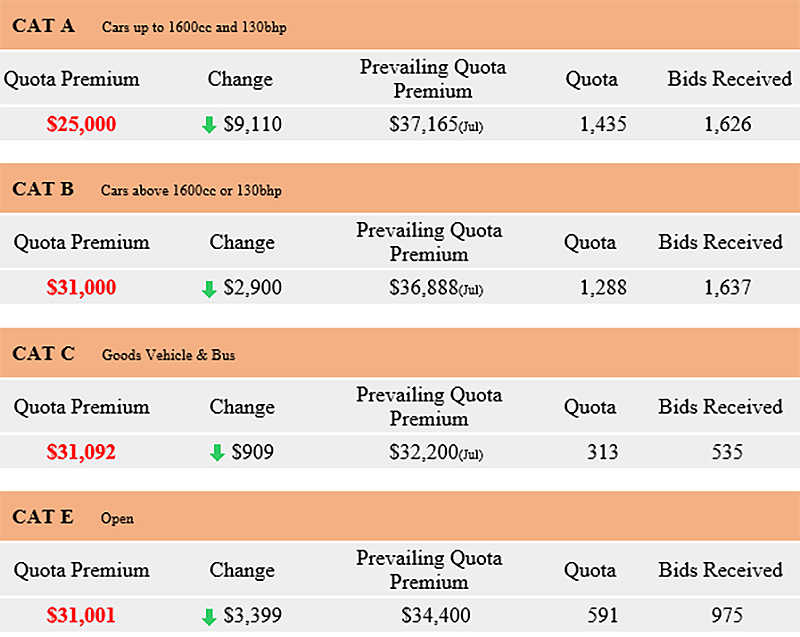 Certificate of entitlement (COE) prices continued to fall, with premiums ending at their lowest in almost a decade in the latest bidding result (4th July 2018). Category A (cars up to 1.600cc and 130bhp) premium fell the most by 24.5% to $25,000. While Category B (cars above 1,600cc or 130 bhp) dropped by 7.8% to $31,000. Premiums for Category E (any vehicle except motorcycles) dipped by 9.9% to $31,001.
All the 3 premiums ended at their lowest since March 2010. The fall might be an effect of the new VES ruling which went into full effect on 1st July 2018. The new emission rule measures the level of tailpipe pollutants new car produces. It factors in particulate matter on top of carbon dioxide, carbon monoxide, hydrocarbons and nitrogen oxides. The amount of rebate/surcharge given is determined by the worst performing pollutant.
Popular new car models (e.g. Honda Fit 1.3 GF and Honda Vezel 1.5X) were hit by this strict ruling and most of the cars are subjected to the new VES surcharge. Given that most petrol vehicles would face surcharges after 1st July 2018 when VES is fully implemented, some customers opt to purchase before 1st July to avoid paying extra under the new VES.
If you have been looking for a new car but has chosen to observe the market after VES has been fully implemented, now is really a good time to take action as COE premiums had fallen drastically especially for small (Cat A) cars. Given that COE premiums have fallen almost by $10,000, it eases the VES surcharges and prices for small cars would still remain attractive. To further encourage customers to take action, Cars & Stars is offering further $5,000 discount on Honda Freed Hybrid (7-Seater) and $2,000 discount on Honda Fit 1.3 GF and Toyota Noah Hybrid (7-Seater). Honda Freed Hybrid (previously priced at $96,888) is now selling at $91,888, Honda Fit 1.3 GF (previously priced at $74,888) is now selling at $72,888 and Toyota Noah Hybrid (previously priced at $117,888) is now selling at $115,888.
Don't miss the chance to enjoy this great deal. Visit our showroom to view the full collection of our cars:
50 Ubi Ave 3 #01-01/02 S(408866)
Or contact our sales team to find out more:
Alan Siow: 9787 5841
Samuel: 9862 9343
Nicholas: 9271 9273
Dexter: 9723 5513
Thank you and we are looking forward to serving you soon!