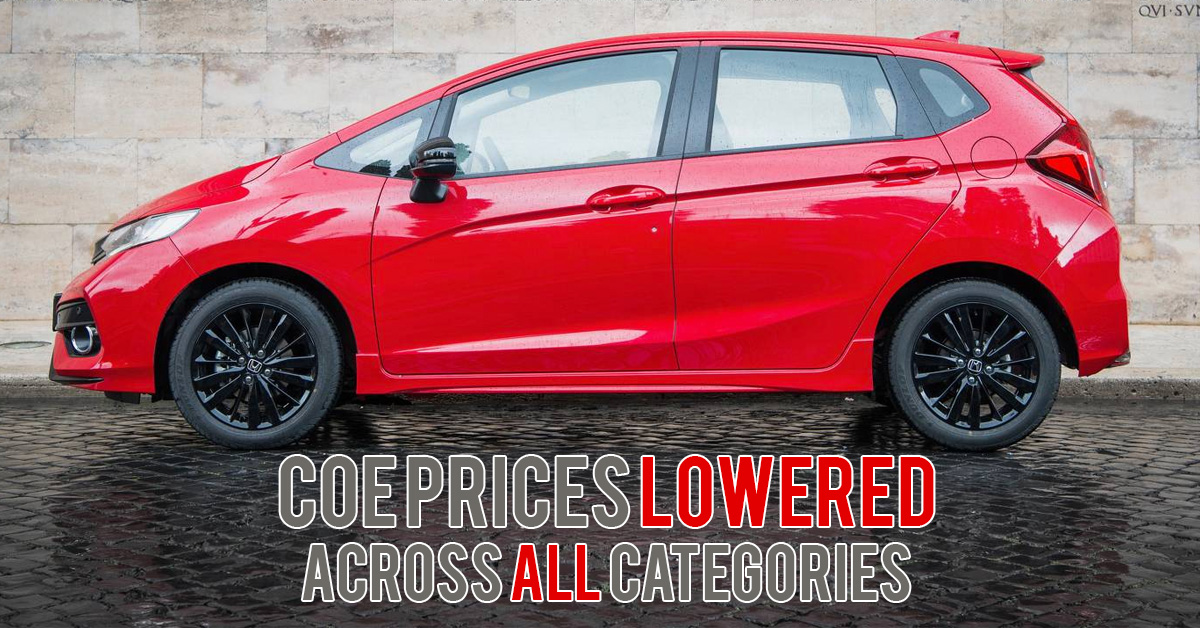 Certificate of Entitlement (COE) premiums fell in all categories in September first round of bidding exercise (Sep 5).
COE for category A (cars up to 1,600cc & 130bhp) ended at $30,209, down about 5.6% from $31,997. COE for category B (cars above 1,600cc or 130bhp) fell about 1.3% from $32,429 to $32,001. COE for category C (goods vehicle & buses) dropped by 9.7% from $29,902 to $27,001. COE for open category went down by 1.58% from $32,311 to $31,801.
One of the reasons that caused COE premiums to drop across all categories was the ongoing Hungry Ghost Festival. This particular period is traditionally a low buying period especially for the Chinese. People are averse to getting married, moving house as well as buying cars.
The car buying interest would once again be re-ignite with the Hungry Ghost Festival ending soon and decrease in selling price of new cars due to fall in COE premiums. This might cause a rebound in COE premiums next round. So if you are looking to buy a new car, take advantage of the promotion now. The attractive packages Cars & Stars are offering would be enticing for both first-time buyer as well as for those people looking to trade-in their existing cars. Check out Cars & Stars latest promotion on our Facebook page today!
Latest Promotion
Honda Fit 1.3GF $69,888
Min down payment $10,888, Monthly $825.00
Honda Freed Hybrid $91,888
Min down payment $23,888, Monthly $951.00
Honda Vezel 1.5X $86,888
Min down payment $21,888  Monthly $909.00
Toyota Sienta 1.5G $88,888
Min down payment $22,888, Monthly $923.00
Contact our friendly and professional sales team to find out more:
Alan Siow: 9787 5841
Samuel: 9862 9343
Nicholas: 9271 9273
Dexter: 9723 5513
Bear: 9489 8824