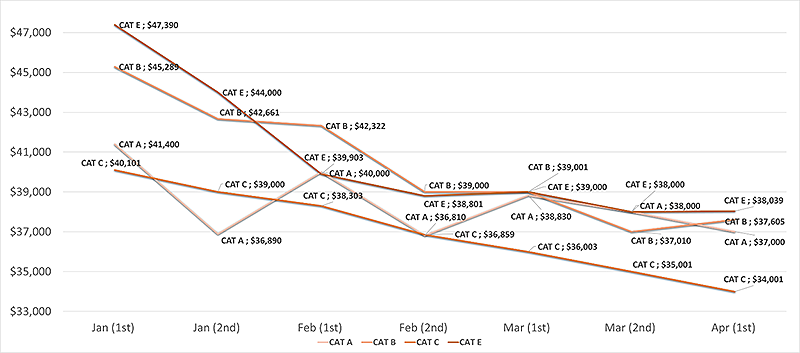 We have been observing a downward trend for COE premiums so far for the year. Premiums for Category A and C decreased by 2.63% and 2.86% since the last bid. Category A ended at $37,000 while Category C ended at $34,001. As for Category B and E, premiums increased slightly by 1.6% and 0.1%. Premiums for Category B ended at $37,605 and Category E ended at $38,039. Looks like COE premiums are rather affordable this round.  If you have been waiting for a good opportunity to buy a new car, now is the time!
Besides the fact that COE is at trough, there are other reasons why we urge everyone to get a new car now. Firstly, as we are all aware, the new Vehicle Emissions Scheme(VES) have taken effect on 1 Jan 2018 which include 4 additional pollutants – hydrocarbons (HC), carbon monoxide (CO), nitrogen oxides (NOx), and particulate matter (PM) – in addition to carbon dioxide (CO2) emissions. A VES rebate or surcharge is imposed on new vehicle based on the worst-performing pollutant. However, to give motor dealers more time to submit PM emission information for assessment under VES, LTA has exempted PM criteria for all vehicles registered from 1 January to 30 June 2018. PM emissions will no longer be exempted starting from 1 July 2018 and we expect that many petrol cars will get additional surcharge between $10,000 to $30,000. Hence, if you are looking to buy a new car, it is advisable to do so before 30 June to avoid additional surcharge. Secondly, we foresee that the next round COE premium will go up as many people bought their new cars at [email protected] motor show last weekend. A sudden surge in car sale from the motor show would result in higher demand in the next round of COE bidding. Thus, COE premium would most likely go up due to higher demand. Lastly, the number of COE quota to be released in the next few rounds leading to July is projected to reduce which will cause even more tension in COE bidding to meet the increased demand. With higher demand and lesser quota, we believe COE premium will most likely increase in the next round of bidding.
With the above analysis, it is wise to take advantage of the low COE premium now to buy the new car that you have always been eyeing for. Check out the list of cars available here or log on to Cars and Stars Facebook Page for the latest new car promotions.