Certificate of Entitlement (COE) premiums for CAT A, CAT B and CAT E have fallen in the latest bidding exercise of February 2017. CAT B had the biggest fall of 8.71% ($4,598) from $52,807 to $48,209.
Latest COE results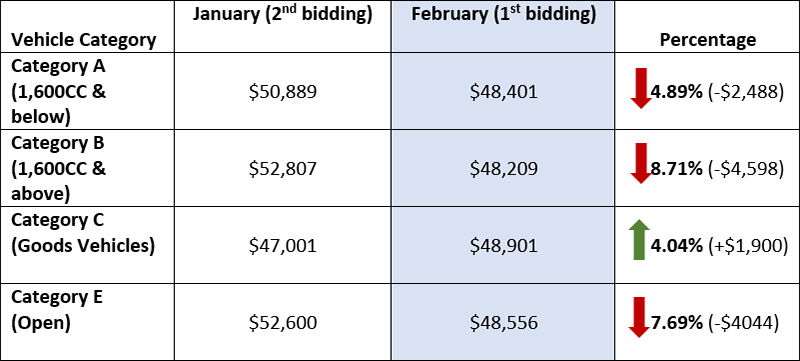 This is mainly due to larger quota announced by the Land Transport Authority (LTA) last month. There is an increasing number of cars on the road which are at the 10 years old mark and this resulted in more motorists to de-register their cars, thus increased the supply of fresh Certificate of Entitlement (COE).
Change in Quota from February to April 2017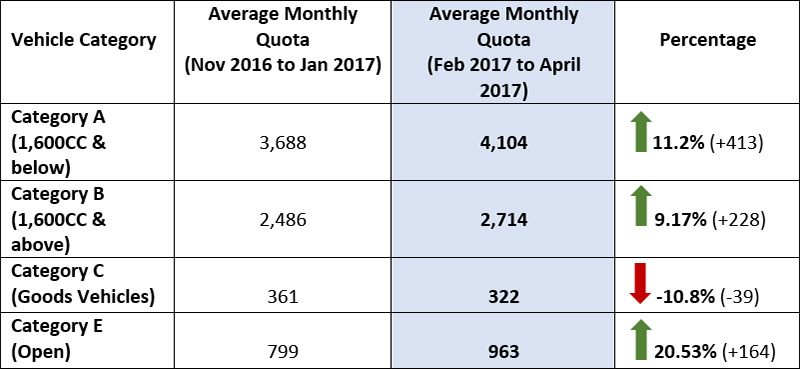 Will this new increase in quota cause premiums to drop further in the next 3 months? Based on previous change in quota, it will most probably affect the first bidding result right after the announcement.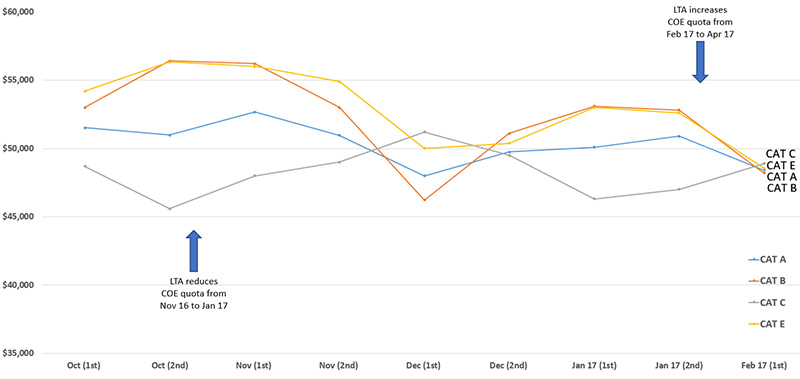 As shown in the above graph, an announcement made by the Land Transport Authority (LTA) in late October 2016 to cut quota from November 2016 to January 2017 only increase COE premiums temporary in the month of November.
It is inevitable that potential buyers tend to wait and monitor for one to two bidding results before rushing in. And when they do decide to commit, COE premiums will most likely to rebound and rise.
Latest COE results – Much lesser bids received for CAT B
Another finding is that the number of bids received for CAT B fell significantly from 1,967 to 1,783 compared to the previous bidding despite the announcement of bigger quota in coming months. This may be the reason why CAT B had the biggest fall when compared to other categories. Does this indicate that more people are looking to purchase new cars that fall under CAT A instead of CAT B given the current economic conditions?
If you are looking to purchase a new car especially for CAT A (1,600CC & below), we suggest to contact us to purchase yours today. This is to avoid the rush in March or April and pay to pay for less COE premiums now. Don't forget to check out the list of new parallel imported cars that are on sales at Cars & Stars. Our prices for parallel imported cars like Toyota Shuttle, Toyota Fit, Honda Fit and Toyota Harrier, Toyota Estima and many others are COE guaranteed and with 3 years of comprehensive warranty. On top of that, you get an attractive interest rate for your car loan with Speed Credit.