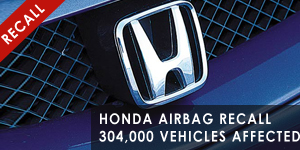 Honda Motor Company is recalling 304,000 vehicles globally for air-bags that may inflate with too much pressure in a crash, send metal and plastic pieces flying and cause injuries or deaths.
Honda said there have been 20 reported cases of this malfunction causing injuries accidents so far related to this problem, including two deaths in 2009 – both in the U.S
The Japanese automaker is also checking an additional 603,000 vehicles that may have received the faulty parts in collision repairs
Below are the models affected on this recall that were manufactured in 2001 and 2002.:
Accord – Model Year 2001-2002
Civic – Model Year 2001-2003 (2-door and 4-door model)
Odyssey – Model Year 2002-2003
Pilot – Model Year 2001-2003
CR-V – Model Year 2003
Acura 3.2 CL – Model Year 2003
Acura 3.2 TL – Model Year 2002-2003
Other Models (not yet specified at this time of writing)
Cars under recall were sold in the US, Canada, Japan, Australia, Taiwan, Singapore and other locations, Honda said.
[symple_divider style="solid" margin_top="20px" margin_bottom="20px"]
Recall Note: The safety of our customers is our top priority and is one of our important commitments to excellent service standards. To our Cars & Stars' customers who are affected on this recall, we will send you a letter regarding this matter as soon as we get recall notifications from LTA. Please be rest assured that Cars & Stars will give you all the necessary assistance needed for this recall. Thank you.
Want to get updated with latest announcements, info and news regarding various vehicle recalls?
Here are simple ways to get all these recall info for FREE.
1.) "Like" us on Facebook – www.facebook.com/carsandstars.com.sg
*Be a part of our growing community and get recall notifications and other car news straight from your Facebook News Feeds.
2.) Bookmark or visit our company news page regularly – https://www.carsandstars.com.sg/category/news/
* Any updates, notification and announcements regarding recalls our compiled and posted on our news page so be sure to check it our regulary.
3.) Join our recall notification mailing list – https://www.carsandstars.com.sg/contact-us/
[symple_divider style="solid" margin_top="20px" margin_bottom="5px"]