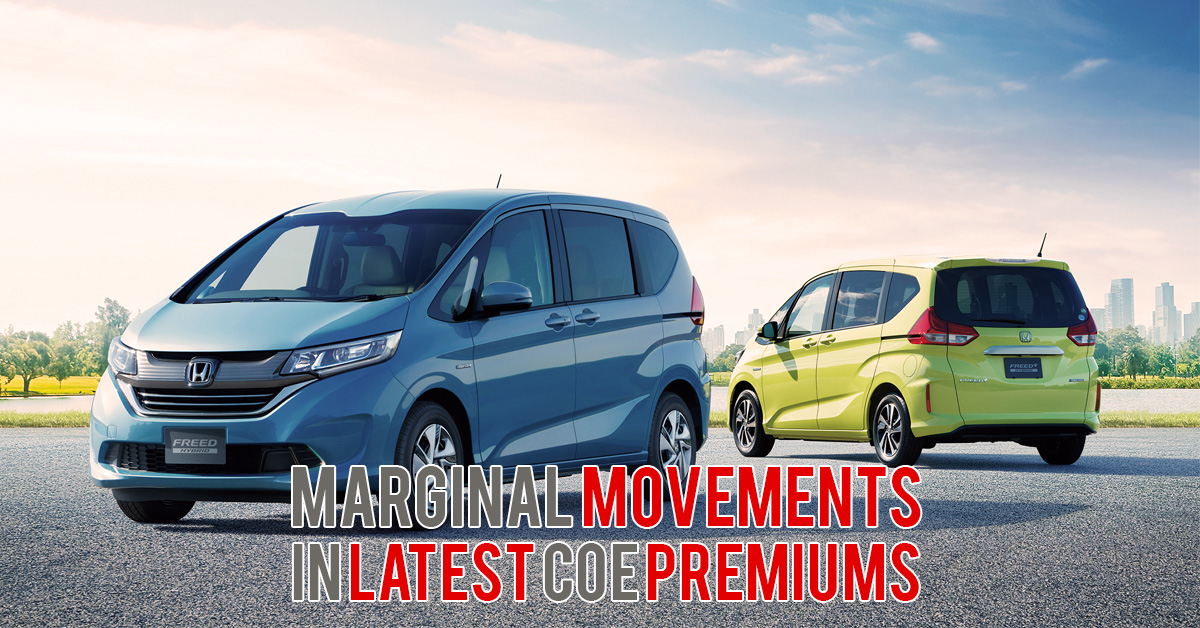 Marginal movements were seen in the Certificate of Entitlement (COE) premiums in the latest COE bidding exercise on 03 Oct 2018.
COE price for CAT A (cars up to 1,600cc and 130bhp) increased slightly by 1.63% from $28,000 to $28,457. This is the third time CAT A COE premium ended below $30,000 since July. COE price for CAT B (cars above 1,600cc or 130bhp) fell by $6 from $31,307 to $31,301. The price for CAT C increased by 5.15%% from $27,104 to $28,501. Price for CAT E (open category) inched upwards by 1.725% from $32,000 to $32,552.
Numbers at a glance:
Cat A (Cars up to 1,600cc and 97kW): S$28,457 (up from S$28,000)
Cat B (Cars above 1,600cc or 97kW): S$31,301 (down from S$31,307)
Cat C (Goods vehicles and buses): S$28,501 (up from S$27,104)
Cat E (Open category): S$32,552 (up from S$32,000)
Premiums have not rebounded much due to the steady supply of used cars by Uber-owned Lion City Rentals. This affected the demand for new cars as some of the car buyers have chosen to buy a used car which is one of the reasons why COE premiums for new cars have been hovering around the same amount. We foresee that it is unlikely for upcoming COE premiums to fall sharply unless there is a huge increase in COE quota in the next three months. If you are looking to get a new car at a good price, do act fast while the COE premiums is stable.
Check out Cars & Stars new car promotions as of 04 Oct 2018:
1. Honda Fit 1.3GF $69,888
Downpayment $9,888, Monthly $864
2. Honda Vezel Sensing $85,888
Downpayment $17,888, Monthly $950
3. Honda Vezel Hybrid Sensing $91,888
Downpayment $19,888, Monthly $1,006
4. Honda Freed Hybrid $89,888
Downpayment $18,888, Monthly $992
Come on down to our showroom to view the full collection of our cars:
50 Ubi Ave 3 #01-01/02 S(408866)
Or contact our friendly and professional sales team to find out more:
Alan Siow: 9787 5841 (bit.ly/WhatsAppAlan)
Samuel: 9862 9343 (bit.ly/WhatsAppSam)
Nicholas: 9271 9273 (bit.ly/WhatsAppNicholas)
Dexter: 9723 5513 (bit.ly/WhatsAppDexter)