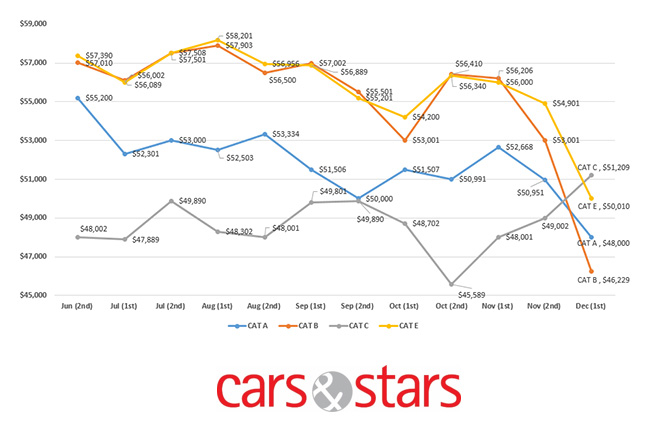 Should you purchase a parallel imported car when it is downward trend for COE premiums?
Certificates of entitlement (COE) ended lower for CAT A, B and E. CAT B dipped 12.8 percent to just $46,229, the lowest premiums since February this year. Both premiums for Cat A and E also falls 4.5% to $48,000) and 5.8% to $50,010 respectively. The above chart clearly shows that premiums for these categories have a drastic drop in premiums across these 3 categories.
Below table shows the number of quotas compared to number of bids received in previous biddings
CAT A

Quota

Bids

received

CAT B

Quota

Bids

received

CAT C

Quota

Bids

received

CAT E

Quota

Bids

received

1st Bidding

October

2064

2938

1350

1785

176

232

436

642

2nd Bidding

2023

2584

1340

1768

188

252

429

678

1st Bidding

November

1929

2800

1347

2012

185

283

401

641

2nd Bidding

1846

2536

1254

1708

182

286

401

531

1st Bidding

December

1844

2335

1245

1494

185

262

413

643
A total number of bids received in the latest bidding for both CAT A and B are lesser compared to previous 2 biddings. Surprising CAT E premiums dropped despite an increase of bids received in the latest bidding whereas premiums for CAT C increased with lesser bids received.
Prospective car buyers like yourself must be predicting if this downward trend will continue and if you are able to secure a much lower COE premiums in the next few biddings. We advise our customers not to wait any longer as COE will rise again very soon.
Based on 2015 records, the premiums also fall in December despite predictions that more people are shopping for cars for the new year. One of the reasons might be due to many Singaporeans are overseas for their holidays. January earlier this year, the premiums rebounded due to more Singaporeans are ready to purchase a car with more cash in hand for Chinese New Year after receiving their year-end bonus in late December.
We advise potential car buyers to quickly purchase their dream car with Cars & Stars to avoid paying unnecessary higher premiums. More demands in January 2017 will definitely increase COE premiums. Why pay a higher premium later when you can get a lower premium this month?
Don't hesitate and make your decisions with Cars & Stars today and also sign-up a loan with Speed Credit. Cars & Stars is a reliable, trusted and leading parallel importer of new cars in Singapore. We cover 3 years warranty for all our parallel imported cars with authorised workshops in Singapore so you don't have to worry about your car maintenance.