Visited 2097 times , 1 Visits today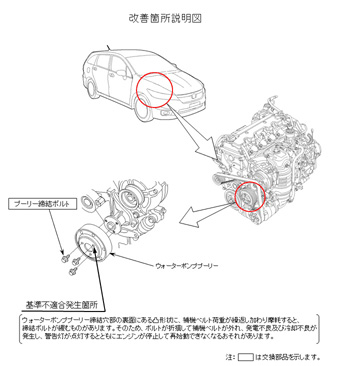 Recall Notification Number: 2785
Recall Start Date: July 26, 2011
Defect sites (part name): Motor (water pump)


Deemed non-conforming structures in the reference state,Equipment or the performance of state and their causes : The convex shape of the hole on the back fastening water pump pulleys, weights and belts worn repeatedly added include loosening bolts. As a result, the belts have broken off the bolt, causing power failures and poor cooling, it may not be able to stop and restart the engine warning light is illuminated with.
---
The contents of the remedies
: Coated with safe products to replace the anti-loose screw bolt pulley bolts and tighten to the specified torque.
---
Measures to make known to the operators who use vehicles and automobile disassembled
: User notified by direct mail.
Models Affected
: Honda Stream, Honda Civic & Honda Crossroads.
Total Number of Vehicles Affected
: 50,122
Honda Stream
---
DBA-RN6
Chassis & Production Period Ranges:
RN6-1084843 ~ RN6-1095838 2008 July 18th – 2008 December 12th


No. of Vehicles Affected

: 10,802
RN6-3000003 ~ RN6-3003927 2009 January 22nd – 2009 May 20th


No of Vehicles Affected

: 3,925
RN6-3100011 ~ RN6-3125941 2009 May 26th – 2010 July 5th


No of Vehicles Affected

: 25,921
DBA-RN7
Chassis & Production Period Ranges:
RN7-1009281 ~ RN7-1010215 2008 July 24th – 2008 December 12th


No. of Vehicles Affected

: 935
RN7-3000002 ~ RN7-3000580 2009 January 22nd – 2009 May 20th


No of Vehicles Affected

: 579
RN7-3100003 ~ RN7-3101511 2009 May 26th – 2010 July 2nd


No of Vehicles Affected

: 1,509
Honda Civic
---
DBA-FD1
Chassis & Production Period Ranges:
FD1-1202449 ~ FD1-1202575 2008 July 18th – 2008 August 1st


No. of Vehicles Affected

: 127
FD1-1300001 ~ FD1-1301374 2008 August 26th – 2009 July 31st


No of Vehicles Affected

: 1,374
FD1-8300001 ~ FD1-8300074 2008 September 5th – 2009 July 6th


No of Vehicles Affected

: 74
FD1-1400001 ~ FD1-1400571 2009 September 2nd – 2010 June 16th


No of Vehicles Affected

: 571
FD1-8400001 ~ FD1-8400255 2009 September 8th – 2010 June 3rd


No of Vehicles Affected

: 255
Honda Crossroads
---
DBA-RT1
Chassis & Production Period Ranges:
RT1-1008707 ~ RT1-1011714 2008 July 22nd – 2010 June 25th


No. of Vehicles Affected

: 3,008
DBA-RT2
Chassis & Production Period Ranges:
RT2-1003073 ~ RT2-1004114 2008 July 22nd – 2010 June 24th


No. of Vehicles Affected

: 1,042