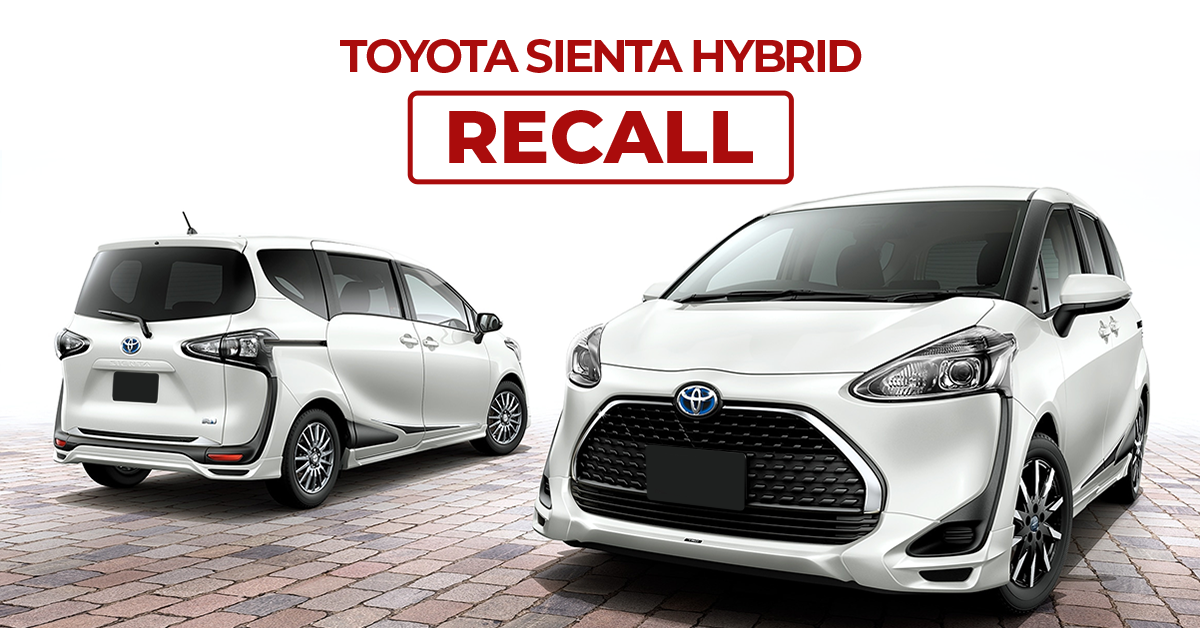 Toyota Motor Corporation has issued a recall notice for more than 250,000 Toyota Sienta Hybrid units manufactured between May 2015 and March 2022.
The recall summary below includes information such as the recall notification number, description of the defect, improvement measures, and chassis range of the affected vehicles.
Customer Notice
At Cars & Stars, we place the safety of our customers first, and we are committed to providing them with the best possible after-sales care and assistance.
All our customers who are affected by the recall should have received a mail from us regarding this recall, which includes information about the recall, the appointed workshop for the rectification, scheduling information, and procedure.
For those who did not receive a letter from us but think their vehicle is affected by this recall, please fill out our recall form at https://www.carsandstars.com.sg/services/vehicle-recall-assistance/#vehicle-recall-form or email us at warranty@carsandstars.com.sg. Our after-sales team will be in touch with you as soon as possible and advise you accordingly.
Please be assured that your safety is important to us, and we sincerely apologise if this recall causes any inconvenience.
We thank you for your kind understanding in this matter.
Yours Sincerely,
Cars & Stars Management
Toyota Sienta Hybrid Recall Summary
Recall Notification Number
5131
Defect Description
The cowl louver's waterproofness may deteriorate over time due to inadequate waterproofing in the service hole.
In the event that a large amount of rainwater enters the combustion chamber from the injector mounting part of the engine, there is a risk that the connecting rod may deform, which may make some noise, and at worst may damage the engine.
There have been no accidents reported in connection with this defect to date.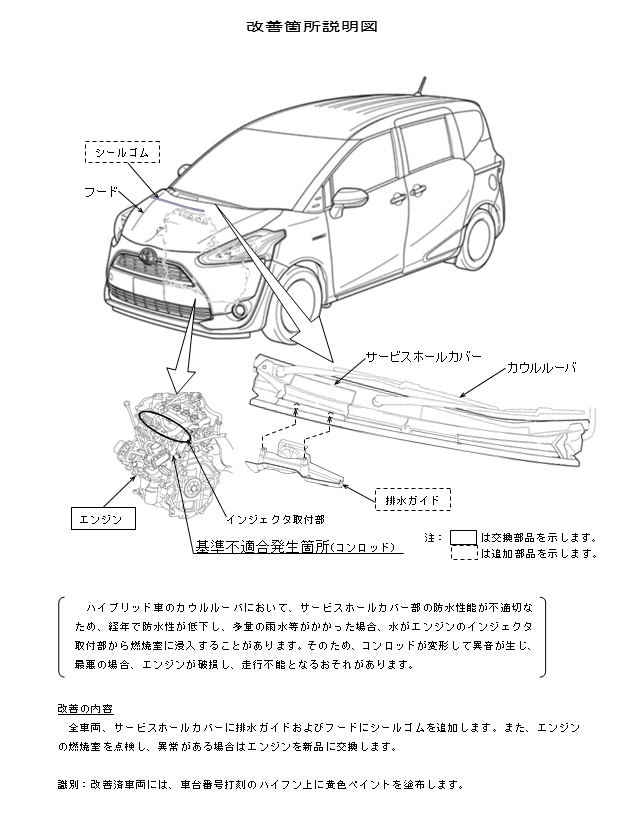 Improvement Measures
Add proper drainage guides, service hole covers, and seal rubber to the hood. The combustion chamber of the engine should also be inspected, and if necessary, replaced if there is a problem.
Model, Chassis Number & Production Period
Model
Common Name
Chassis Number Range
Production Period
Number of Target Vehicles
DAA-NHP170G

6AA-NHP170G

Sienta Hybrid
NHP170-7000016 ~

NHP170-7265654

7 May 2015 – 12 March 2022
259,991
Remarks:
The chassis number range reflected above includes both eligible and ineligible vehicles.
A vehicle's production period is different from its purchase period.
Recall Reference
https://toyota.jp/recall/2022/0413_2.html
Disclaimer:
The recall summary information provided above was translated from Japanese to English to the best of our ability. Cars & Stars will assume no responsibility for any inaccurate information or errors provided herein.
We recommend you visit the recall reference cited above for more information. Thank you.