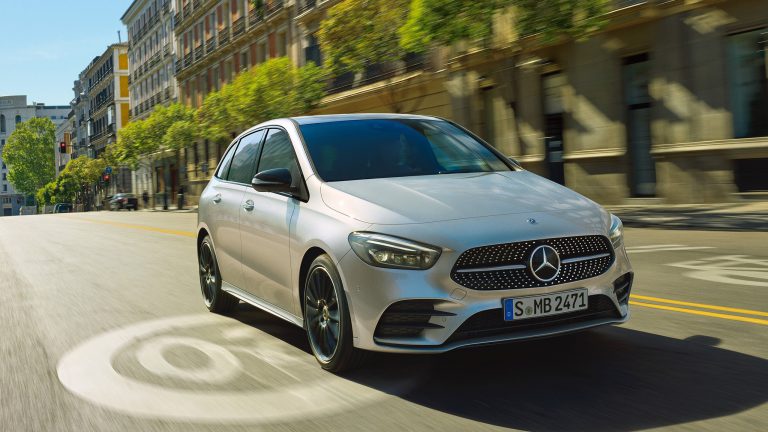 The Mercedes-Benz B 200 model line is dynamic and agile, yet spacious and comfortable: the Mercedes-Benz B-Class combines the best of both worlds. 17″ alloy wheels painted matt black with a high-sheen finish and a black grille with two louvres painted silver with chrome inserts add to the distinctive look of the exterior, while the Active Brake Assist, Active Lane Keeping Assist, ATTENTION ASSIST and LED High Performance headlamps make your journey the safest possible.
The third-generation Mercedes-Benz B 200 sparkles. Its exterior is not as dowdy as its predecessors. In fact, it looks pretty good – urbane, unpretentious and un-SUV. Stretched a little longer, compressed a little lower, and with wheels positioned closer to its four corners, the car appears more dynamic – even if it is still chubby when compared with the now lean and mean A-class.
The new B 200 has a welcoming, wrap-around cabin, which sweeps seamlessly from the dashboard, centre console and around into the doors. It's unlike anything else in its class. High quality materials and a meticulous finish make the B-Class interior unsurpassed in it's class. With a free-standing widescreen display holding the instrument display and MBUX infotainment system, the interior of the B-Class gives the impression of a control centre for your journey. Every detail is right there: seats, trim, air vents, steering wheel and instrument panel. That's because the interior of the new B-Class can be adapted to your every need. And with ambient lighting, every part of the B-Class is designed around you.
The B-Class is equipped with intelligent assistance systems and functions to protect you while on the move and help take the strain out of driving. They can help identify dangers and provide corresponding warnings or may even intervene with corrective actions. This means you and your passengers are always in the best of hands.
In the rush hour, during a long drive at night or on an unfamiliar route, your B-Class noticeably takes the strain out of driving, particularly in stressful situations. This is based on a concept that makes every journey in a Mercedes-Benz safer and unique: Mercedes-Benz Intelligent Drive. Because the time you spend behind the wheel is your time. Time for relaxation. Time to replenish your energy. So that, first and foremost, you reach your destination safely, but are also more relaxed when you get there.
Top driving assistance and safety features of B-Class are Active Distance Assist DISTRONIC, Active Brake Assist, Driving Assistance package, PRE-SAFE® system, Blind Spot Assist and Traffic Sign Assist.
Apart from its fully intuitive operation, the B 200 constantly adapts to your needs and habits. For example, it notes your route to the office and can automatically offer a faster one to avoid traffic. This all forms part of the revolutionary MBUX (Mercedes-Benz User Experience) – a smart system that gets to know you more every day. You'll find very few conventional controls in the B-Class cockpit. The touchscreen and touchpad allow you to operate almost everything in the car with a simple press or swipe, from the ambient lighting to the sound system. You can now also control all of these features directly via Touch Control on the steering wheel. The cockpit welcomes you with two fully digital displays, forming a dramatic centrepiece in the cabin. You can even choose from three display styles – Classic, Sport and Discreet – and switch between them according to your mood and the situation.
The colours shown are for illustration purposes only.
To verify or check colour availability, please contact any of our Sales Consultant or call us on our hotline at +65 6585-5555.
Below are some of the featured highlights that we love about the Mercedes-Benz B 200. Please take note that some of these features may only be applicable to other special variants.
For verification, please check with any of our Sales Consultant or contact us on our hotline at +65 6585-5555.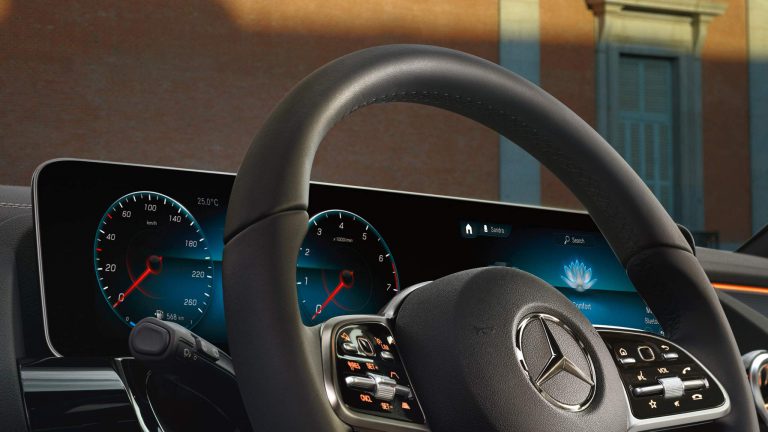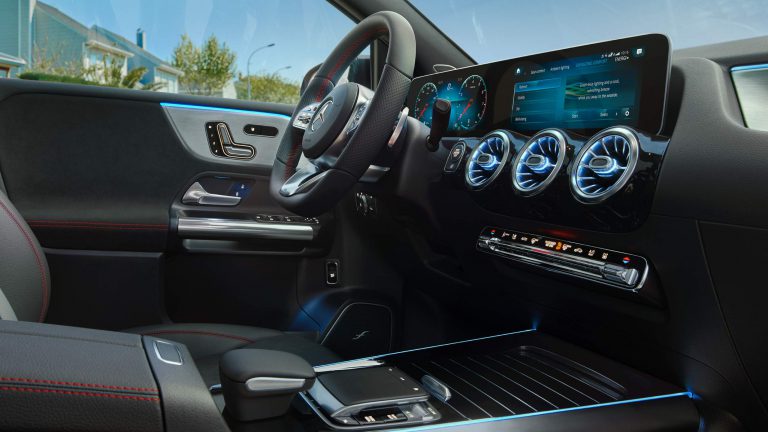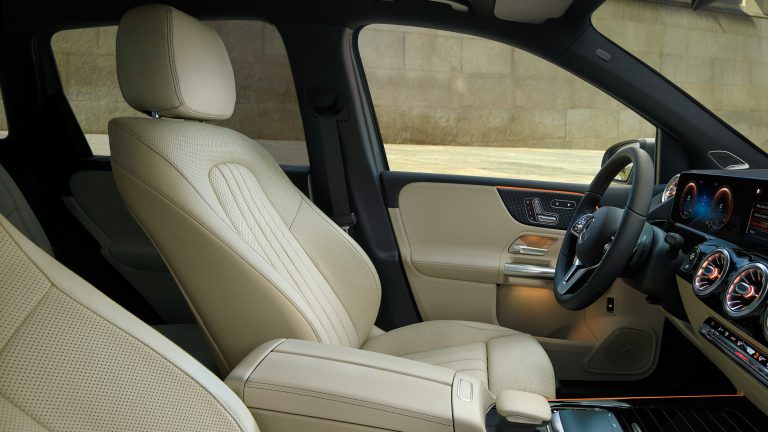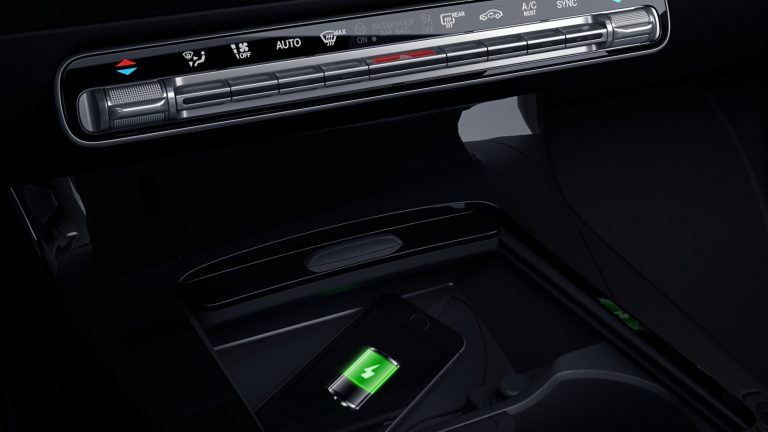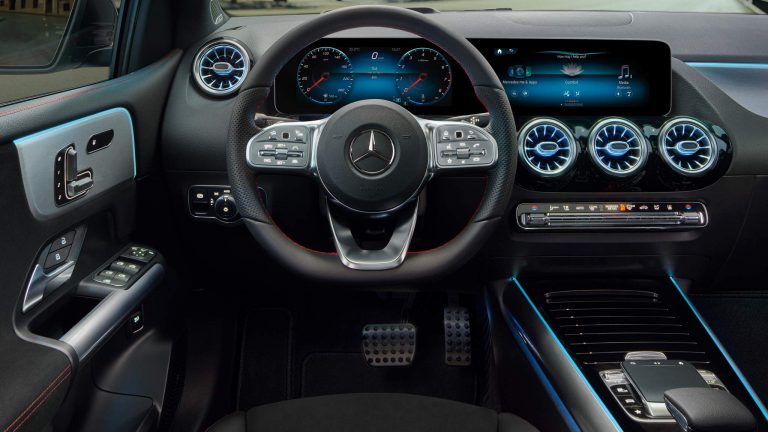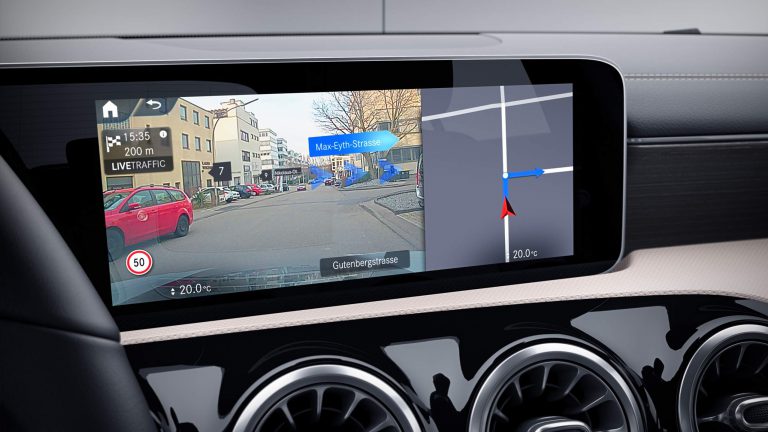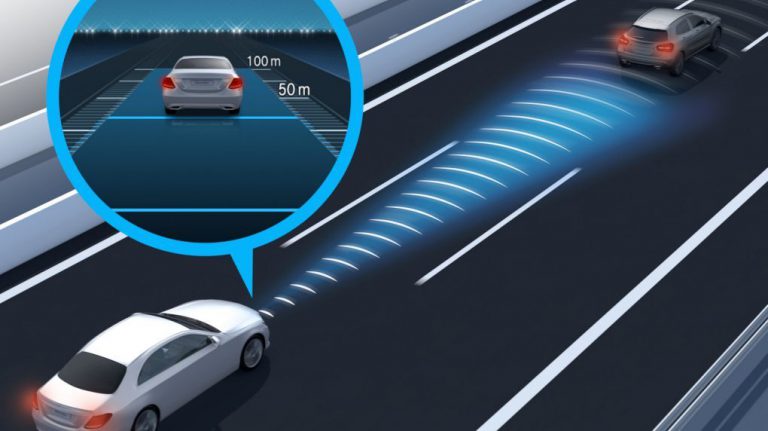 Standard Equipment, Features & Options
Some of the model features, equipment and options shown may not be available at the time of purchase, or may only be available in a different specification or are for special variants only. Prices and specifications are subject to change without prior notice. For verification, please check with any of our Sales Consultant or contact us on our hotline at +65 6585-5555.
Engine:
Engine Capacity: 1,332 cc
Engine Type: 4-cylinder in-line 16-valve Turbocharged
Compression Ratio: 10.6
Bore x Stroke: (72.2 x 81.4) mm
Fuel Type: Petrol
Performance:
Power: 120kW (161 bhp)
Torque: 250 Nm
Acceleration: 8.2s (0-100 km/h)
Top Speed: 223 km/h
Fuel Consumption: 16.3 km/L
CO2 Emission: 126 g/km (Manufacturer specs)
Misc. Technical Data:
Transmission: 7G-DCT (A)
Drive Type: Front-wheel drive
Measurements:
Dimensions (L x W x H): (4419 x 1796 x 1562) mm
Wheelbase: 2,729 mm
Min. Turning Radius: 5,500 mm
Kerb Weight: 1,410 kg
Fuel Tank Capacity: 43 L
Boot/Cargo Capacity: 455 L
Brakes:
Front Brakes: Ventilated dsc
Rear Brakes: Disc
Suspension:
Front Suspension: MacPherson suspension with spring strut and wishbone, coil springs, twin-tube gas filled shock absorbers, stabiliser
Rear Suspension: Torsion-beam axle, coil springs, gas-pressured shock absorbers, stabiliser bar
In addition to, or in replacement of, B 200 Sport Package:
10.25″ media display
10.25″ instrument cluster
64-colour ambient lighting
KEYLESS-ENTRY
225W sound system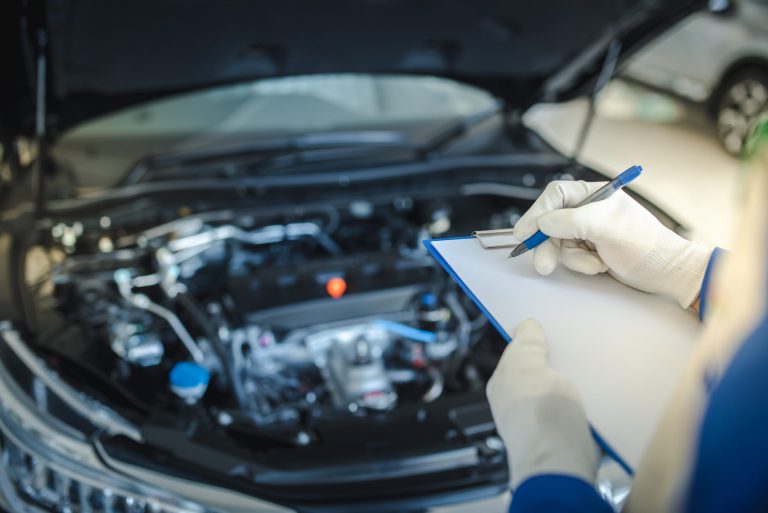 Warranty
Drive with peace of mind. Your brand new car, purchased from Cars & Stars is covered for 5 years or 130,000 km mileage (whichever comes first) by our Workshop Partners. Enjoy a comprehensive warranty coverage.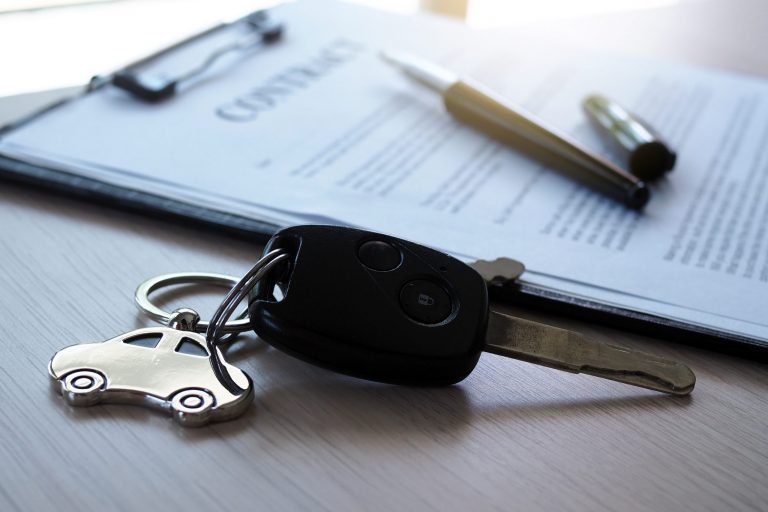 Car Financing
Through our bank and financial institution partners, getting the most flexible loan and lowest interest rate for your car is an absolute breeze. Drive your dream car and enjoy the best car loan deals from us.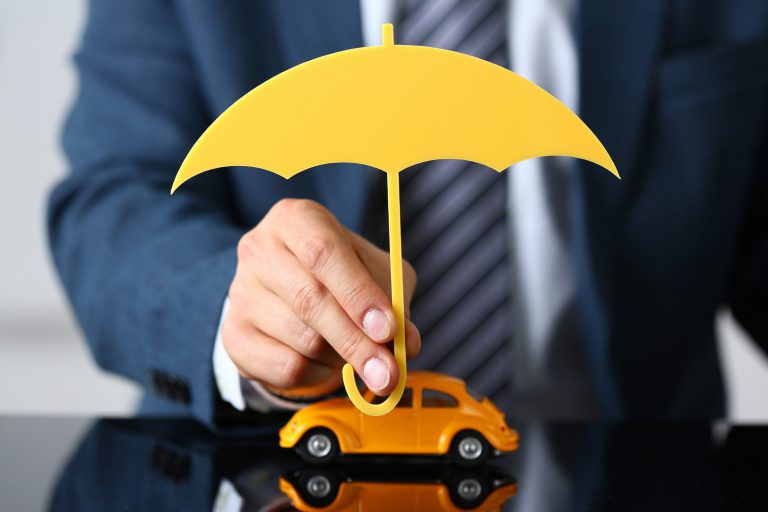 Car Insurance
Save yourself from car insurance troubles and hassles by putting your trust on our Car Insurance Services. Let us get you the cheapest and most comprehensive car insurance through our insurance partners.
At Cars & Stars, we are always here to help and listen to your needs. Your needs are as important as ours. Pick your next step below and/or let us know how you want to be contacted.
Showroom Address: 50 Ubi Avenue 3 Frontier, #01-01/02 Singapore 408866
Operating Hours: 10:00am-6:00pm (Monday-Sunday, Including Public Holidays)