Mercedes-Benz GLE 450 4MATIC Mild Hybrid
With a new level of intelligence and attentiveness never before seen in an SUV – the new Mercedes-Benz GLE 450 4MATIC Mild Hybrid 7-Seater elevates the SUV category to an entirely new level. Any unevenness is actively smoothed out by the suspension and throughout the journey, its infotainment system learns more about your preferences. Its convenience system can also recognize when you need to take a break.
Featuring a refined new design and a rock-solid stance, the all-new Mercedes-Benz GLE is ready for your active lifestyle. A third row of seats can now be added to the GLE, increasing the seating capacity to seven. Technology-inspired interiors and intuitive user interfaces, as well as safety and comfort features, make it a perfect choice for you and your family.
Taking a step back at the right moment and being right where it counts at the next moment is the art of GLE design. Featuring sensuous surfaces, muscular contours, and clear lines, the new GLE impresses with its design. The expression of power in such an elegant and dynamic manner is difficult to imagine.
The Mercedes-Benz GLE 450 4MATIC Mild Hybrid 7-Seater is a tremendously elegant SUV that has the strength to impress with a strikingly dynamic design and an imposing on-road presence. In addition, it has a powerful exterior that conveys a feeling of power and elegance. A sense of poised assurance and safety emanates from its generous proportions as well.
Sporty elegance is epitomized by the progressively styled interior. The spacious layout, high-quality materials, and practical details ensure that you will be able to enjoy a luxurious atmosphere and a truly comfortable journey with the GLE 450 4MATIC Mild Hybrid 7-Seater.
A third row of two full-size seats is now available for the first time on the GLE. There is easy access to the third row, and an adjustable second seat row allows for flexibility in the footwell. Even better, the new GLE 450 4MATIC Mild Hybrid 7-Seater still offers more legroom and comfort in the rear thanks to its improved spatial concept.
A convenient level of flexibility is provided by the electrically adjustable second row: you can extend the load space and rearrange the rear seats as you see fit. All of this makes creating additional load capacity a quick and easy process.
Embrace the elegance of the GLE's Widescreen Cockpit right from the start. MBUX Augmented Reality allows you to choose from many display styles and position the displays according to your preference. The more you explore, the better it gets: choose from various display styles, follow the navigation guidance provided by MBUX Augmented Reality, and more. All on two large 31.2 cm (12.3-inch) displays under a stylish glass cover.
The new Mercedes-Benz GLE 450 4MATIC Mild Hybrid 7-Seater is the first SUV to feature the revolutionary MBUX infotainment system. Among the impressive features are the natural-language voice control system, the variety of touch controls, and the ability to learn more about the driving habits and preferences of the driver over time.
When driving in rush hour, at night, or on an unfamiliar route, the GLE SUV noticeably relieves stress, particularly when faced with stressful situations. The concept is based on Mercedes-Benz Intelligent Drive, which makes every journey in a Mercedes-Benz safer and more enjoyable. Since the time spent behind the wheel is your time, it is a time for relaxation and replenishment of energy. The goal is to ensure that you reach your destination safely, but also feel relaxed when you arrive.
The Mercedes-Benz GLE 450 4MATIC Mild Hybrid 7-Seater also comes with a number of driving assistance and safety features that can offer you tangible support and protection.
Below are some of the featured highlights that we love about the Mercedes-Benz GLA 200. Please take note that some of these features may only be applicable to other special variants.
For verification, please check with any of our Sales Consultant or contact us on our hotline at +65 6585-5555.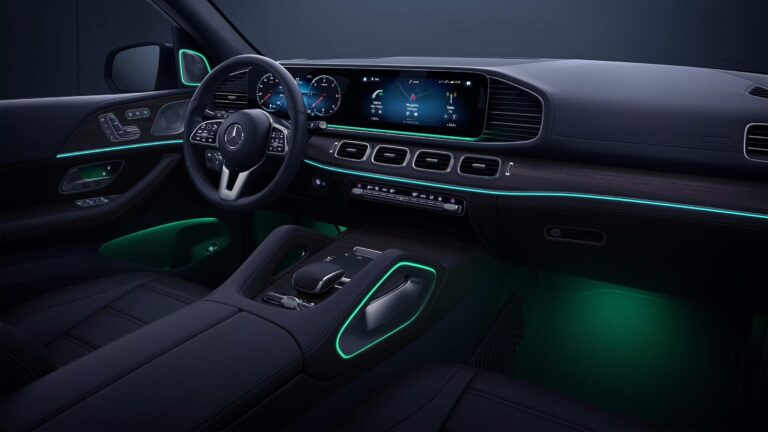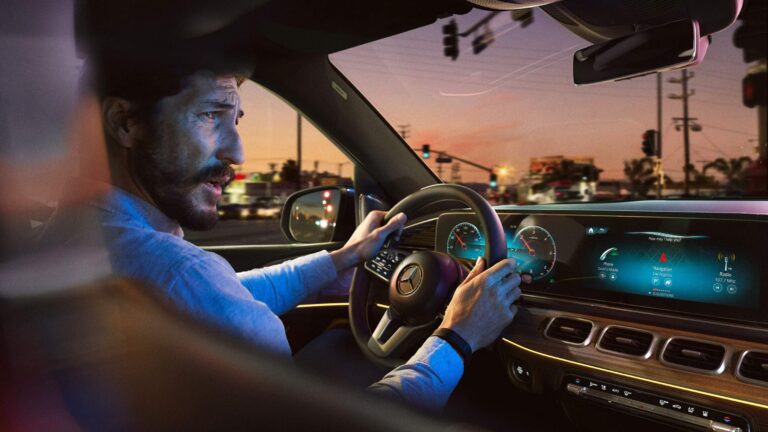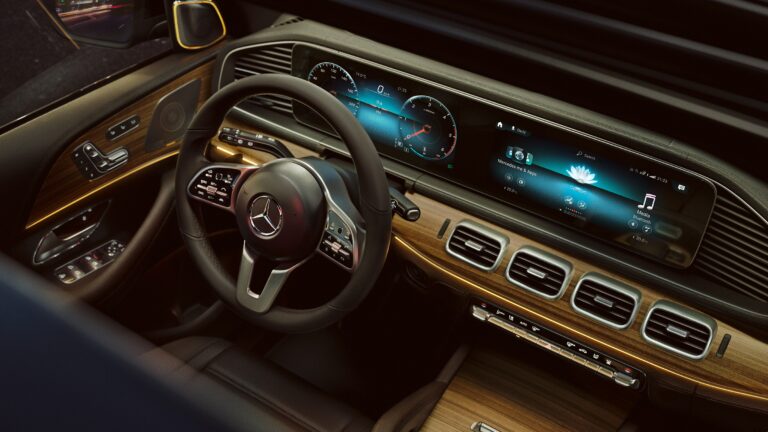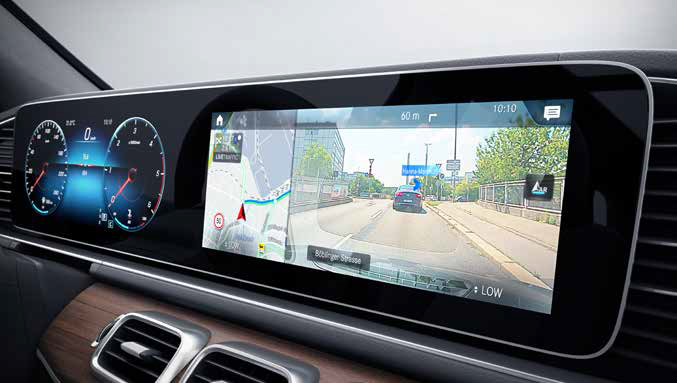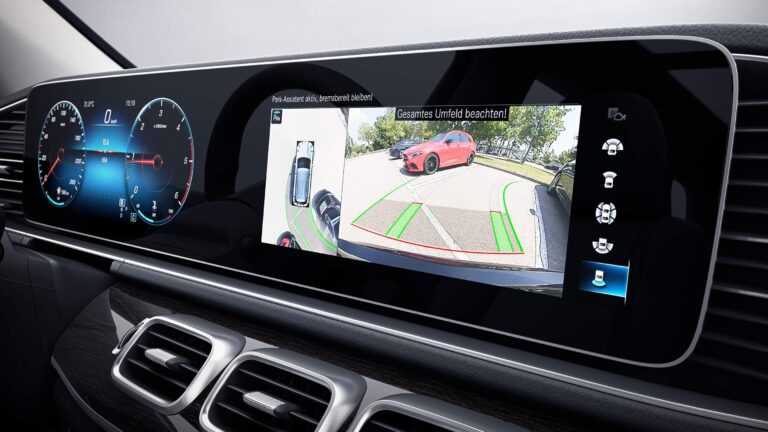 Standard Equipment, Features & Options
48V technology
9-speed automatic transmission
Aerial for GPS
Aerodynamic measure package control code
Air filter with water protection
Air-conditioning system
Alternative refrigerant
Assistance system steering wheel control changeover
Automatic rear-end door
Central display size L
Collision warning system with active brake application FCW-Stop
eCall emergency call system
Electrically adjustable rear seats.
Electrically folding exterior mirrors
Electronic horn
Engine uprated
Exhaust system with OPF, generation 2.0
Exhaust treatment, Euro 6 technology
Exit warning assistant
Free map data updates for 3 years
Front Memory Package
Front passenger seat with weight sensor
Fuel tank system for EU6D standard
Fuel tank with increased capacity – Volume2
Hard drive navigation
Headliner, gray fabric
HERMES communications module LTE
Inline 6-cylinder spark-ignition engine, M256
Instrument panel and beltline leather-clad (embossed imitation leather)
Integrated starter alternator Gen. 1.
Interior Chrome Package
Interior Light package
Interior luxury package
Keyless Go
KEYLESS-GO package
Kneebag
Language of instrument cluster/HU – Traditional Chinese
Leather sport steering wheel
LED high-performance headlamps
Light-alloy wheel 10-spoke design 20″ all-round
Live Traffic capability
Load compartment cover
Logo projection via mirror
Lumbar support adjustment
MBUX multimedia system
Memory Package (driver's seat, steering column and mirror)
Mercedes me connect – extended connectivity
MIRROR PACKAGE
Panoramic sliding sunroof/glass roof
Parking package
Preinstallation for retrofitting navigation system
Radio remote control without panic switch (315 MHz)
Rear axle
Rear belt status indicator
Running board in aluminum look with rubber naps
Sensor system for trunk lid opening/closing
Speed/load index 113W XL
Standard suspension lowered
Summer tyres
Tire pressure loss warner
Tirefit
Trim elements – Bluish Aluminum Shine
USB package
Velour floor mats
Wheel arch expansion (claddings) size S
WIPPS countries WEU+COC
Some of the model features, equipment and options shown may not be available at the time of purchase, or may only be available in a different specification or are for special variants only. Prices and specifications are subject to change without prior notice. For verification, please check with any of our Sales Consultant or contact us on our hotline at +65 6585-5555.
$1 Driveaway
New Arrival
Ready Stock
Engine:
Engine Capacity: 2,999 cc
Engine Type: 6-cylinder in-line 24-valve Turbocharged
Compression Ratio: Unknown
Bore x Stroke: Unknown
Fuel Type: Hybrid
Performance:
Power: 270 kW (362 bhp)
Torque: 500 Nm
Acceleration: 5.7s (0-100 km/h)
Top Speed: 250 km/h
Fuel Consumption: 11.5 km/L
CO2 Emission: 214 g/km (Manufacturer specs)
Misc. Technical Data:
Transmission: 9G-Tronic (A)
Drive Type: All-wheel drive
Measurements:
Dimensions (L x W x H): (4924 x 2022 x 1797) mm
Wheelbase: 2,729 mm
Min. Turning Radius: 2,995 mm
Kerb Weight: 2,220 kg
Fuel Tank Capacity: 85 L
Boot/Cargo Capacity: 630 L
Brakes:
Front Brakes: Ventilated disc
Rear Brakes: Ventilated disc
Suspension:
Front Suspension: Double wishbone, coil springs, single-tube gas-filled shock absorber, stabiliser bar
Rear Suspension: Multi-link suspension, coil springs, twin-tube gas-filled shock absorbers, stabiliser bar
MBUX Multimedia System
Automatic Climate Control
Ambient Lighting
LED High-Performance Headlamps
Light-Alloy Wheel 10-Spoke Design 20″ All-round
Mirror Package
Panoramic Sliding Sunroof/Glass Roof
Parking Package
USB Package
Kneebag
Interior Luxury Package
Interior Chrome Package
Interior Light package
Electrically Adjustable Rear Seats
Price Inclusions and Other Offers:
– Promotional Price
– 5 Years Warranty + Free Car Servicing
– Free Car Accessories (Leather, Solar Film & In-Car Camera (Front & Back))
– Road Tax
– Flexible Downpayment & Loan Options
– Insurance Arrangement
– High Trade-in Offers
– 100% Delivery Assurance
Promotional prices and offers are valid till 5 December 2023 only.
Terms and conditions apply.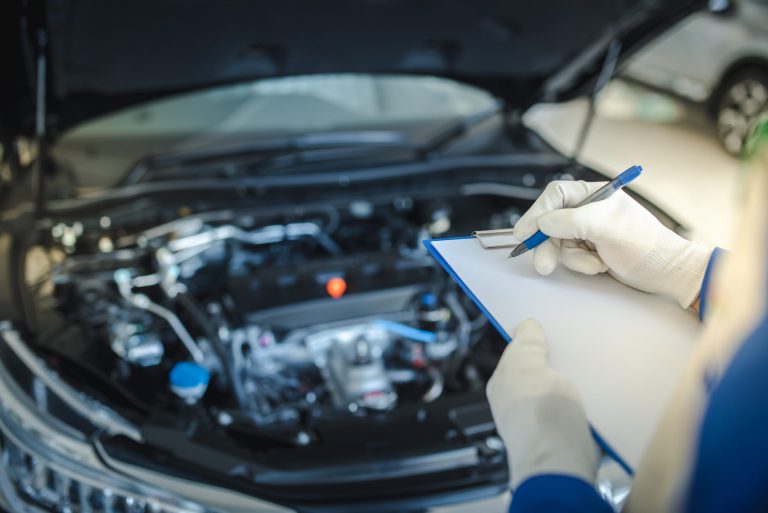 Warranty
Drive with peace of mind. Your brand new car, purchased from Cars & Stars is covered for 5 years or 130,000 km mileage (whichever comes first) by our Workshop Partners. Enjoy a comprehensive warranty coverage.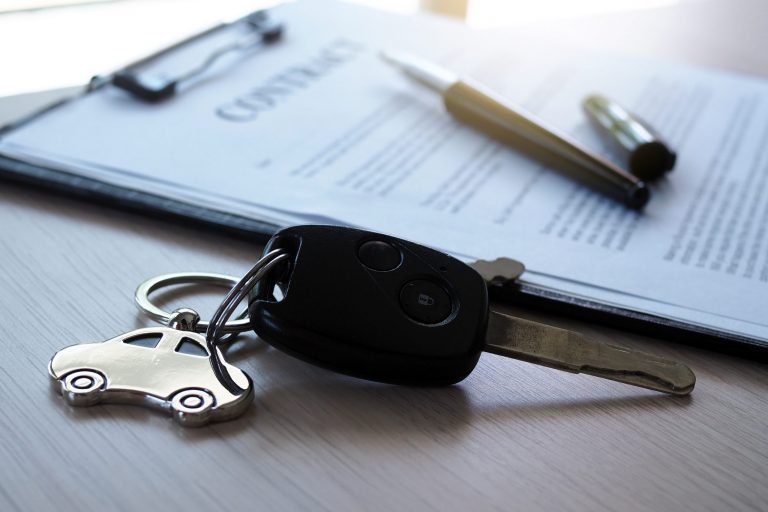 Car Financing
Through our bank and financial institution partners, getting the most flexible loan and lowest interest rate for your car is an absolute breeze. Drive your dream car and enjoy the best car loan deals from us.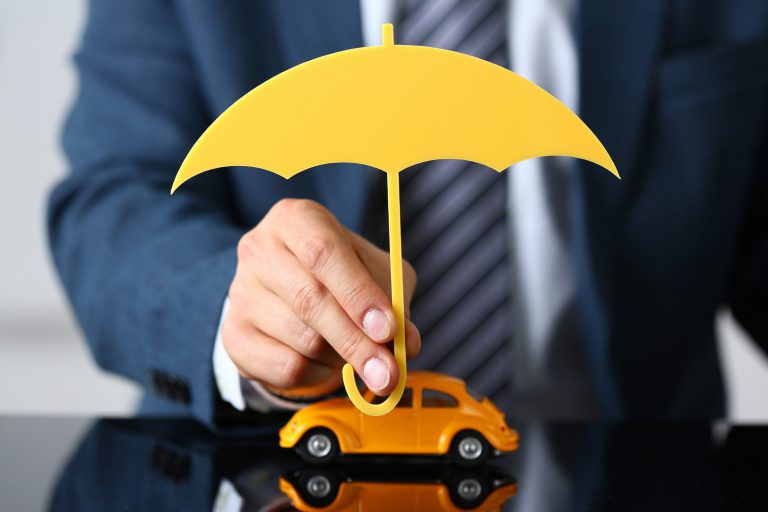 Car Insurance
Save yourself from car insurance troubles and hassles by putting your trust on our Car Insurance Services. Let us get you the cheapest and most comprehensive car insurance through our insurance partners.
At Cars & Stars, we are always here to help and listen to your needs. Your needs are as important as ours. Pick your next step below and/or let us know how you want to be contacted.
Showroom Address: 50 Ubi Avenue 3 Frontier, #01-01/02 Singapore 408866
Operating Hours: 10:00am-6:00pm (Monday-Sunday, Including Public Holidays)